A proud people, an Awesome God
The year was 1918 and the world was at war. Akron, the Rubber Capital of the World was like a magnet drawing men and women from the South seeking a better life. Leaving Jim Crow and segregation behind seeking the assurance of the promise of equal opportunity and the American Dream held in the North. Instead they found a city as segregated as the ones they left. In spite of all the obstacles placed in their way, God saw fit to establish a place of worship for the charter members of the church.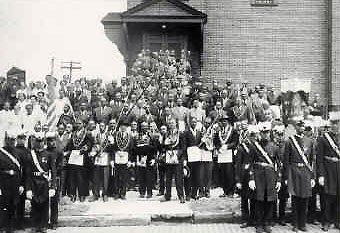 On May 16, 1918 the Reverend H. W. McClellon met with a group of believers to discuss organizing the church. The meeting was held at Mt. Calvary Lodge #76 Prince Hall F&A Masonic Hall located at 16 1/2 South Howard Street.
On June 19, 1918 Mt. Olive was officially organized. Reverend McClellon was elected Pastor with the following charter board members: Hiram Jones (Treasurer, Deacon Chairman), Henry Carter (Secretary), Lillian McClellon (Sunday School). Other charter members inclulded Jessie Munford, Fred Caffee, Jerry Jones, Susie Jones, Ruby Cooper, Reverend H. Burks and his wife.
1918
Became a member of the Northern Ohio Baptist District Association, July 15.
Began holding services from a garage located on the corner of High and Ridge Street, October 15.
Pastor McClellon resigned as pastor, November 4.
Reverend W. L. Boyd of Birmingham, Alabama served as interim pastor from November through December 23.
1919
Reverend Crawford began his pastorate on January 20. He served as pastor for 3 years, during his watch the church moved to 166 Bluff Street.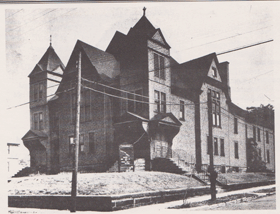 Reverend Joseph Isaac Monroe (1922 ~ 1954)
Assumed the pastorate and Sheppard for 32 years. Pastor Monroe believed the future of Mt. Olive would only be enhanced if the members were prepared to assume leadership roles in the church and the community. He taught and invited others to assist in educating the congregation to what a church should be according to Scriptures. In 1927 a $5000 bank loan was obtained to purchase a church located on the corner of Bartges and Coburn Streets. During the Great Depression members were asked to give an offering of 25 cents per week and Pastor Monroe would often defer his salary to the needs of the church and by 1943 $7000 had been raised and the mortgage was paid off. In 1954, Pastor Monroe received his Crown of Glory (1 Peter 5:1, 4) for being a faithful and dedicated servant of the LORD.
Reverend Howard B. Washington (1954 ~ 1976)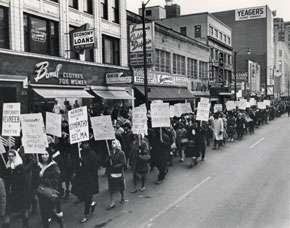 Assumed the pastorate and being a man of vision, took right up where Pastor Monroe left off. Pastor Washington's theme was the 27th Psalm, particularly the first verse; "The LORD is my light and my salvation; Whom shall I fear? The LORD is the strength of my life, Of whom shall I be afraid?" Moving in vision, Pastor Washington improved the structure by initiating new ministries such as the Youth and Sunbeam Choirs and the encouragement of laymen to be more involved in Church ministry. He launched a weekly radio broadcast and was extremely active in the Civil Rights Movement. On Monday, March 15,1965, Rabbi Morton M. Applebaum of Temple Israel and Reverend Washington led a group prayer, then from the Church at Bartges and Coburn Streets accompanied by about 2,500 protesters, guided by 70 clergy members from all faiths, they began their journey into downtown Akron. The event was hailed as Akron's first civil-rights march. April 16, 1967 the Church moved, debt free, to it's current location of 1180 Slosson Street. After 22 years of faithful service, Pastor Washington and his wife Juanita who was the Minister of Music relocated to Newark, New Jersey.
Reverend Dr. Arthur E. Kemp (1978 ~ 1995)
Pastor Kemp's style of preaching was more expository with greater emphasis on teaching. Pastor Kemp started a weekly radio program called "The Word of God" on station WHLO. Under Pastor Kemp's leadership, Mt. Olive dedicated a new sanctuary that included a new business office, multi-purpose room, library and sound room. While as pastor, Pastor Kemp obtained a Doctorate of Theology, conducted several trip to the Holy Land, participated in many associations to include the American Baptist Convention. In 1995 Dr Kemp retired as pastor.
Reverend William Charles Bunton (1997 ~ Present)
Assumed the pastorate on September 14, 1997. Often called a "Triple Threat" because he can Preach a sinner to salvation, Teach a believer of the mysteries of Christ, and Sing a wounded soul to thanksgiving! Since his arrival Pastor Bunton has emphasized spiritual growth through education, so you will always find a Biblical class going on at the Church. In 2007 the mortgage for the new sanctuary was paid in full and the mortgage burned! A community minded pastor, Pastor Bunton is continuing to be a vehicle for change and social justice in the Akron area. A mentor to many and a friend to all.