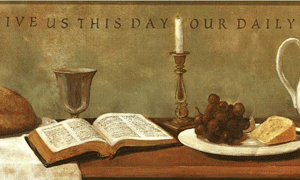 Daily Inspiration

Our daily inspiration will come from "Our Daily Bread" booklets. You can download the "Our Daily Bread" App FREE on your cell phone or tablet from Google Play below or from the Apple Store for the iPhone.
We will have a 15 minute lesson each day at 12:05pm - 12:20pm on a free conference call in conjunction with the Daily Bread reading for that day. (you can also use the hard copy which is available in the church narthex.)
To tune in to the conference call dial: 712-770-4120, (access code 698070).